Starters, Salads, & Soups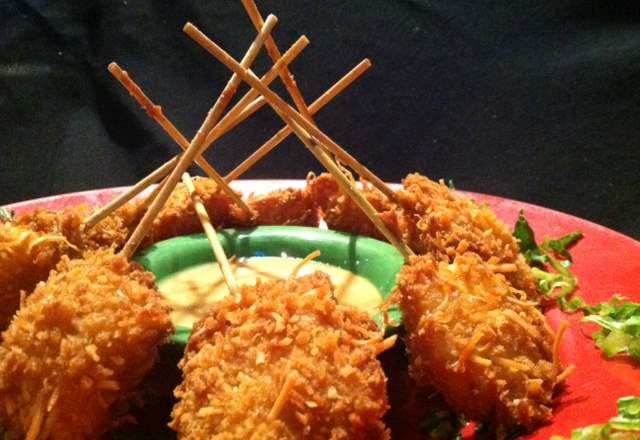 Starters
Mac's-made chips with seasoned beef, Pepper Jack cheese, our Jim Beam BBQ sauce, & dollop of sour cream. Small - 6
Crispy potato wedges with your choice of: Chili, Pulled Pork, or Bacon & Cheese.
Choice of spicy hot with Bleu Cheese dressing or Plain with Honey Mustard dressing. Double batch - 19
Skewered shrimp dipped in a sweet batter & coconut. Small - 6
1 lb. of PEI mussels streamed in a Chardonnay sauce with garlic, spinach, & tomatoes.
Crab-stuffed caps topped with Parmesan cheese & breadcrumbs.
Bacon wrapped sirloin tips served with a horseradish dipping sauce.
Crispy hand-breaded chicken with your choice of dipping sauce or Buffalo style.
Basket of hand-cut, beer-battered fresh onion rings.
Bacon Wrapped Scallops
-

3
With a Maine Maple Syrup drizzle. Order as many as you'd like!
Salads
Mac's Caesar
Romaine lettuce with roasted red peppers, garlic croutons, shaved Parmesan, & Caesar dressing. Steak or Salmon - 12. Chicken - 10
Cool Ranch Cobb
Mixed greens with beef & chicken, veggies, boiled egg, almonds, mushrooms, & raisins served with Ranch dressing. Chicken only- 11 Beef* only - 12 Vegetarian - 9
6 oz Steak atop mixed greens, tomatoes, red onion, Bleu Cheese crumbles, & crisps served with our Honey Balsamic vinaigrette.
Beef medallions over field greens with marinated artichoke hearts, red onions, tomatoes, Kalamata olives, & Feta cheese served with creamy Greek dressing.
Buffalo Chicken atop mixed greens, bacon, tomato, and Colby cheese.