Steaks & Specialty Entrees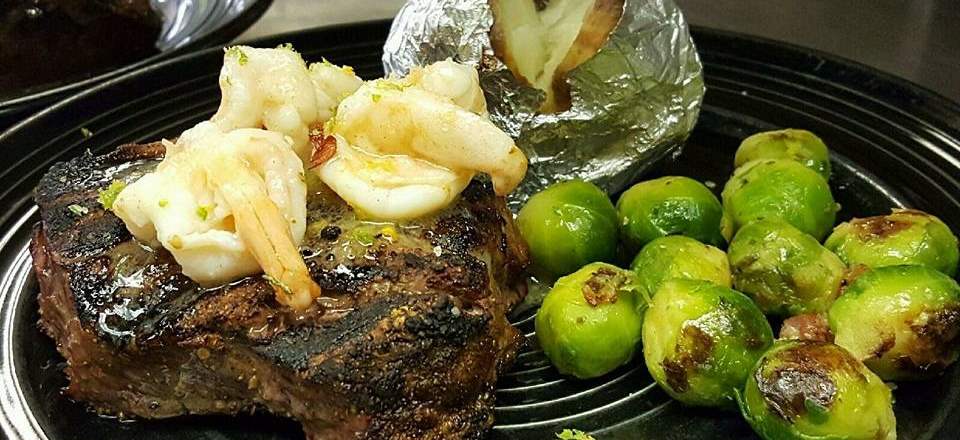 Hand-cut Angus steaks - served with your choice of two sides.
See a full list of our sides here.
Spice up your steak with one of our famous Grill Flavors or enhance your meal with one of our Add Ons.
Hand-Cut Angus Steaks
Our Signature 10 oz. filet style sirloin - Since 1994
12 oz. Hand-cut ribeye. 16 oz. - $29. Choose your own custom cut for $2 per oz. for cuts over 16 oz.
Choice of garlic, onions, & mushrooms or teriyaki style with peppers & pineapple.
8 oz. bacon wrapped tenderloin topped with garlic butter or Bleu cheese crusted.
Specialty Entrees
Hickory-smoked & smothered in our Jim Beam BBQ sauce. Half rack - 14
Boneless Short Rib of Beef
-

21
Braised with beef gravy on a bed of wilted spinach, mushrooms, & onions. Topped with onion hay.
Grilled chicken with pesto and a touch of cream.
Parmesan-Crusted Haddock
-

17
Haddock filet baked with lemon, shaved Parmesan, chardonnay, & herbed bread crumbs.
Grilled Salmon filet topped with our Pineapple Salsa.
Homemade beer-battered Haddock filet.
Crispy hand-breaded chicken with a choice of Honey Mustard, BBQ Sauce, Buffalo Style, or Sweet Thai Chili.
Grilled and served with your choice of Marsala or Sweet Carolina BBQ Sauce.